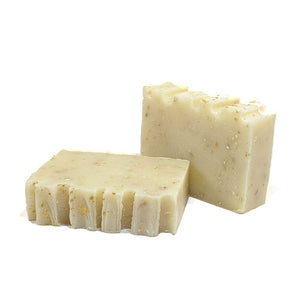 Tea Tree essential oil. Oatmeal Smoothie is misnomer, as it contains particles of oatmeal which help to exfoliate the skin.  Tea Tree essential oil, is an antibacterial agent  which helps to reduce pimples. Tea Tree is amazing and used by herbalist to treat many skin disorders.  it's very moisturizing and helps to gently remove dead skin cells. Do you remember your mom giving you an oatmeal bath when you had chicken pox? Now you know why! Soothes and helps relieve itchy skin. 
All natural soap, handmade in small batches. Great for sensitive skin and eczema. These non-toxic/hypoallergenic bars will last twice as long as any other organic bar of soap in it's class. They lather quickly, rinse easily, leaving your skin feeling clean and moisturized.  Great for face, body and hair.
Made only with highest quality scented oils and 100% all natural ingredients: Olive Oil, Coconut Oil, Shea Butter, Cocoa Butter, Castor and Avocado Oil.
(CAUTION!: If you suffer from Psoriasis, this is NOT the soap for you. Tea Tree oil can cause inflammation for those suffering with Psoriasis.)
The Soap Lady of Cocoa is the creator of Zephan Luxury Soap. No other soap can compare when made with Zephan.